As I mentioned
here
, I started a new job at Paperchase this week, and, as part of the small talk that comes with meeting new people, my new manager asked me what kind of music I listen to, in particular what I was listening to on my iPod when I walked in. I replied by saying I'd been listening to Jessie Ware's new album, but truthfully, I'd been listening to FOUR, the latest offering from One Direction. I don't know why I was 'embarrassed' to tell the truth, and if I could go back I definitely wouldn't lie, because he truth is:
I love One Direction
!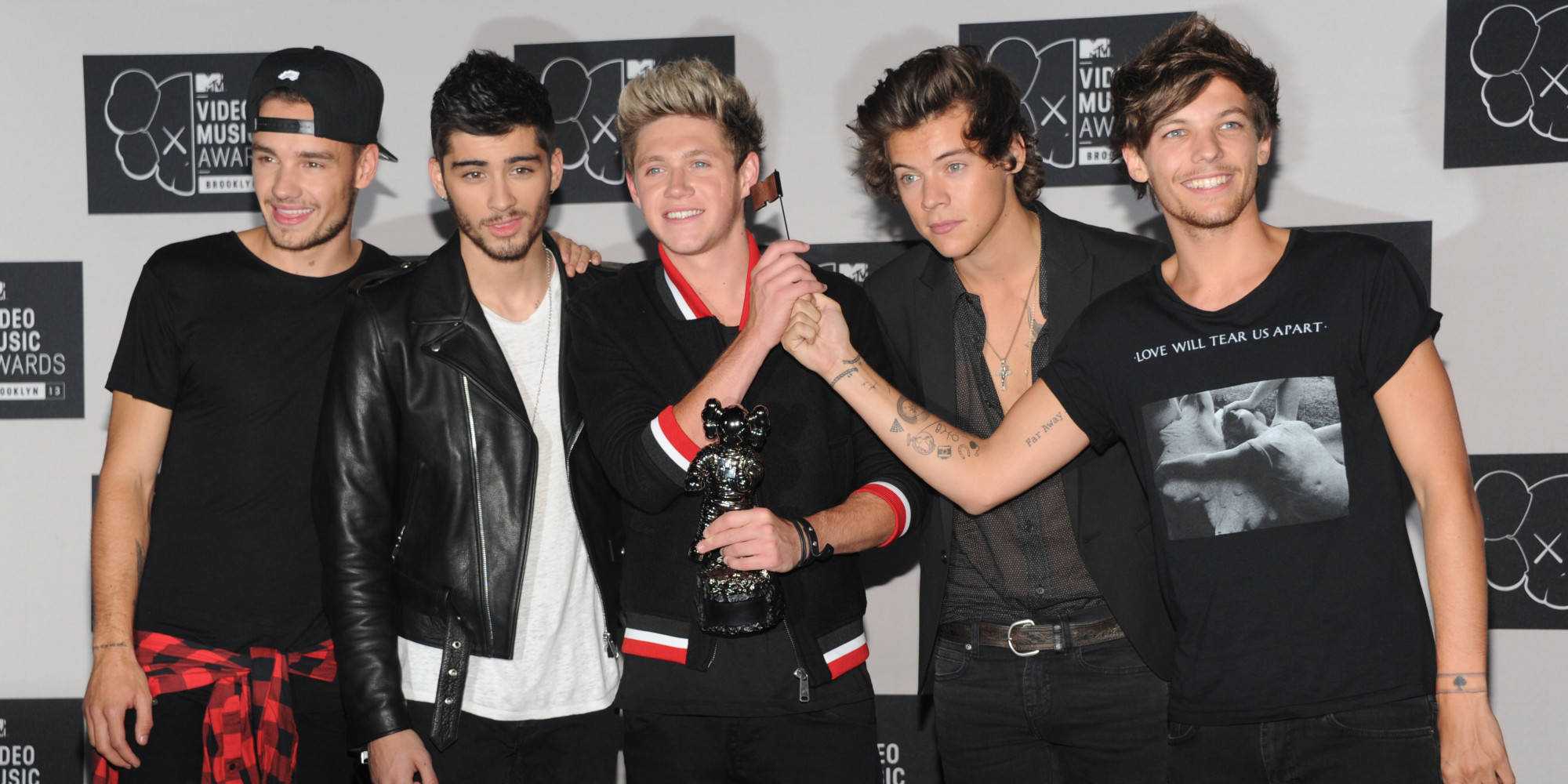 They're cute and sweet, and not afraid to be themselves. They make great, catchy music, and are, for the most part, easy on the eyes. They inspire discussion, mostly 'who's more attractive, Zayn or Harry?', but discussion nonetheless. All five of them have their own personality and unique style. They all bring something different to the band, and they can all sing! They always seem to be having fun. Whether it's in interviews, on stage, or in their music videos, they always appear to be enjoying themselves. I
love
this, because it makes me feel like they appreciate what they've got. They have the perfect life and all the opportunities in the world, and I feel like they know this. It's also just nice to see people smiling and joking in music videos. 1D have fun with their videos, something that people
rarely do anymore
.
I don't think I can write a post about One Direction without telling you which one is my favourite, so, here goes. It's Harry, and it's Zayn. I know, it's cheating to choose two, but I literally can't pick one over the other. Harry is the one, obviously. He's the most famous, and he's the coolest (and he's younger than me - why?!?). But Zayn is Zayn! He's one of the most attractive people on the planet, and he's realllly pulling off the man bun at the moment. He's also the best singer, his ad-libs are just perfect. My next favourites are Liam and Louis, Liam because I like his voice, and Louis because he's pretty attractive. To tell you the truth I didn't really like Louis until recently, not for any reason in particular, he just seemed pretty insignificant. But, after seeing him holding hands with a monkey in the Steal My Girl video, how could I not love him. My least favourite is Niall, he creeps me out, and he's very annoying. He plays the 'joker' of the group, and it pisses me off. (Don't judge me for taking this all a bit too seriously.)
(This picture is my desktop background; it makes me laugh too much.) Part of the reason I love them is because my friends love them. There's not many things that I like that I can talk to my friends about. None of them watch Scandal or Supernatural or The Vampire Diaries. None of them listen to Paramore or Lady Gaga. They do however like One Direction.
We
like One Direction. Their first single was released the month before we all met (me and my uni friends), and it feels like we've grown up with them. They're all our age, and throughout our university career, there's always been a new 1D song to see us through. Most of our nights start off with us listening to 1D's back catalogue.
One Direction have had a string of fantastic singles over the years, from What Makes You Beautiful, the song that announced their presence to the world, to the charity single One Way or Another, to their current single Steal My Girl, but until FOUR, I'd never bought one of their albums. I kinda thought their albums were made
too
quickly, and that all the album tracks (i.e. non singles) would be just that. But ... FOUR is so good! The vast majority of the songs could, and should, be singles (not Night Changes though, I think that was a mistake, and the video is, for want of a better word, cringe). The best songs on the album are, in my opinion, Stockholm Syndrome, Steal My Girl (despite the questionable lyrics in the chorus - I'm looking at you 'belong'), Clouds, Where Do Broken Hearts Go and No Control. Personally I think that 1D do upbeat, fun tracks better than the slower, more emotional ballads, so I'm not the biggest fan of Night Changes (especially that key change), Ready to Run, Fools Gold or 18. This album was more than a pleasant surprise, and I know I'm going to be listening to it for a long time to come.
To read the rest of the Dolly On ... series, click
here
!